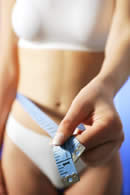 Are you tired of being overweight, of endlessly dieting? Are you ready to heal the cause of the problem?

We approach weight management through many different facets to cover the complexity of this issue.

Holistic Nutrition, hypnotheray, energy medicine, energy psychology, and our health exercises will help you immediately reestablish a HEALTHIER LIFESTYLE.

Our focus is also, in many cases, on assisting you in eliminating the negative EMOTIONS, traumas and stress underlying the eating disorder responsible for overeating and cravings.

We treat the blockages locked in the patient's nervous system, contributing to an imbalanced BRAIN CHEMISTRY and thus excessive hunger.

We have, however, treated obese patients who were on a perfectly good, low calorie diet and without any eating disorder. In these cases, the culprit is an HORMONAL IMBALANCE. For example, low level of thyroid hormone or insulin may contribute to the problem, even if these levels do not appear significantly too low on blood tests. We directly assess your hormonal functions through applied kinesiology and intuitive scanning.

It is also important to start a DETOXIFICATION program to alleviate the digestive organs of toxins, parasites and pathogens which prevent proper food metabolism, leading to accumulation of fat in blood and tissues. Please visit our "Detoxification" section for information.